Technical Writing
It's a pleasure to read a technical document that is clear, coherent and complete. Technical documents are often repositories of important, specialized information so it is crucial that they be understandable. To that end, we work closely with your relevant people, including subject matter experts, technicians, engineers, developers and managers, to assimilate the material so that we can convey it in a concise and effective manner. With experience in many industries, including telecommunications, finance, software development and healthcare, our writers have the technical understanding and the language skills to produce documents that are both accurate and coherent.
Envision can create user guides, online help, software user manuals, instructional materials, job aids, white papers, design specifications, and other technical documents for a wide variety of audiences.
Put that Manual in Your Pocket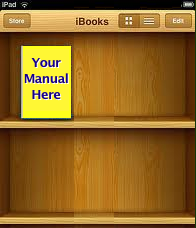 Almost any Word or InDesign document can be turned into an ebook, readable on a Kindle, a Nook, an iPad, an iPhone, or an Android device. The layout may change, as the words and pictures will flow to fit the size of the screen, but the content will remain the same.
Your people can easily carry their needed guides, manuals, instructional materials, job aids, and other documents around in their pockets.
Digital Content
We can help you provide your audience with digital access to your content, via video channels, blogs, and learning portals. In addition, we can provide strategic guidance during the selection of learning management systems (LMSs).
Other Writing Services
We also offer other writing services and can create procedure manuals, work flows, process flows, job aids and promotional and marketing materials as needed.
Working with your subject matter experts, our writers are also available to ghost-write articles or white papers or produce e-books as needed.