In our previous post, Making The Most of Your Location: A Guide to Lowering Production Costs, Part I – Creative Location Selection, we described how we halved production costs on a large-scale National Safety Council (NSC) video training shoot by utilizing a hotel and a school rather than a studio or multiple sets,while still capturing everything we needed in a way that was interesting and engaging. When it came to videos that were strictly procedural videos, such as CPR and use of an automatic external defibrillator, we wanted to make sure that these sets were interesting and engaging as well.
We needed to portray various settings that NSC's clients could relate to. We wanted their clients to see multiple backgrounds, including backgrounds familiar to the airline and construction industries, as well as daycare centers, schools, and warehouses. Although we could find various props to help enliven the various scenes, repeatedly changing the scene takes time and money. That's when we realized that we could completely change the set with one simple solution.
Whether it is a schoolyard, an airport, a warehouse, or a construction site, we needed to come up with something creative, that wasn't really seen before in training videos, and that was cost-effective. That's when we decided to use rear projection to set the scene.
Rear projection isn't anything new; it has been used in film for years. Actors are placed in front of a semi-transparent screen and behind the screen you project whatever image it is you need to set the scene. This allows the image to shine through the screen, creating a background. You light the actors from the front, and when shooting it looks as if the actors are wherever you want them to be. For instance, when we were shooting the child CPR scenes, we projected an image of a playground, which any teacher could relate to. We projected a shot of a warehouse for adult CPR because many of the people who will watch this training series are warehouse workers. We ended up using over eight different backgrounds for these particular training scenes and all we had to do was change the picture that was being projected. If we had to change the set pieces for each of the different environments, it would have really kicked up production costs. This way, we were able to completely change the look of the set with one click of the mouse.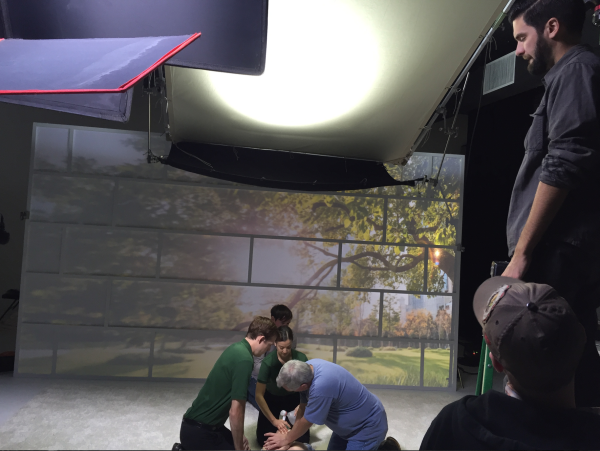 Feedback on this project has been outstanding. Many people within the NSC complemented us on how the scenarios captured the real-life situations perfectly, and that the various set backgrounds we used in rear projection was something they had never seen before.
The NSC wanted to take their training material and make it exciting and fresh, and with some clever thinking and proper planning, we were proud to be able to help them achieve their goal.