Envision Group Consulting has been privileged to work with the National Safety Council (NSC) on a large-scale training program to develop a wide-ranging series of training videos. These videos covered everything from the proper technique for CPR, to using an automatic external defibrillator, to how to respond to a series of emergencies. We had the challenge of coming up with various case scenarios in which our subjects were in need of emergency care: heart attacks, shock, broken bones, choking, and poisoning, as well as many other situations. We needed to shoot all these scenes in order to capture everything that the NSC wanted addressed, in a way that was interesting and engaging. This was no small feat!
How do you take an extensive training series, with hours of information that needs to be recorded, and make it fresh and compelling to the viewer? You want the videos to portray real-life situations that people can relate to, and you want them to stay focused on what they are watching. You have a certain budget, as well as a set timeline to record all of the necessary scenarios. We were up to the challenge! With some outside-the-box thinking, ingenuity from our video department, and a lot of hard work, we were able to plan a video shoot that would save on production costs and make sure that our final product was engaging and informative.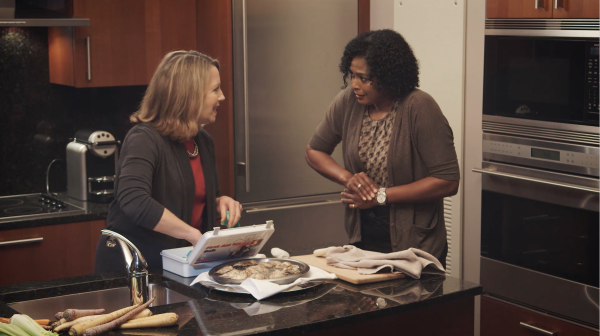 One key way we saved on production costs was by shooting at one location that could provide multiple sets all in one place. The alternative was shooting in multiple locations, which would have added many hours of setting up and tearing down lights, sound, and everything else that goes into it. Yes, there are studios throughout Chicago that would allow us to do that. But those studios are not cheap and they really only have a few different sets to choose from. Instead of shooting at a studio, we realized that if we rented a business suite at one of the leading hotels in Chicago, we could to shoot everything that we needed to shoot at one location. We had a living room, dining room, bathroom, kitchen, bedroom, and hallway, and we were even able to shoot outside of the hotel. By shooting everything at one location, we cut the setup time in half, getting double the active shooting time in a day. If we hadn't done that, the price of the shoot would have doubled.
Since a big part of the NSC's training program is dedicated to pediatric training, it was only common sense to shoot at a school. Again, this provided us a great opportunity to shoot different scenes without changing locations. We could shoot in a cafeteria (allergic reaction), a gymnasium (asthma), a science class (chemical reaction), a playground (broken bone), and a locker room (heat stroke), all without having to pack up all of our gear and move to a new location. Yes, we had to change rooms, but since everything was in the same building, the time it took to move equipment and set up the next shot was minimal.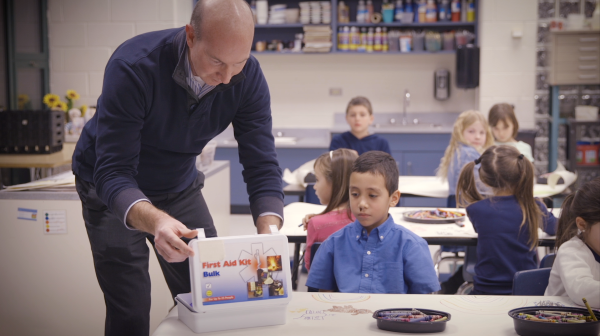 By shooting at the hotel and the school, we were able to capture everything we needed for the scene-based segments. But what about the videos that were strictly training sessions – the segments that were straight procedural videos, such as CPR and use of an automatic external defibrillator? The NSC wanted to make sure that these sets were interesting and engaging as well. This proved to be a bit more challenging, but we love a challenge, and once again were able to come up with something that was better than shooting on a stationary set.
In Part II, we'll dive deeper into how we managed to portray multiple locations while shooting in the same room.